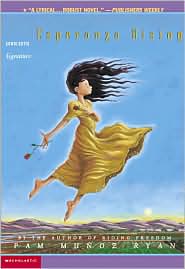 Title:
Esperanza Rising
Author:
Pam Munoz Ryan
Bibliography:
Ryan, Pam Muñoz.
Esperanza Rising
. New York: Scholastic, 2000. Print.
Summary:
Esperanza is a rich twelve-year-old who lives in Mexico on her parents' grape plantation. She is used to wearing the finest dresses and being waited on by servants, until one day her father is killed and her house is burnt down. In order to escape a horrible life of being sent off to a private school, Esperanza and her mother must secretly travel to California with a family of their servants. Esperanza gets to America, "the land of opportunity" only to live in a two room shack with no running water, dirty clothes, the same food every day. Esperanza must learn to sweep, take care of babies, and end up packing vegetables with the older women in order to take care of her sick mother and keep what little things they have.
Reviews:
School Library Journal (October 2000)
Gr 6-9-Ryan uses the experiences of her own Mexican grandmother as the basis for this compelling story of immigration and assimilation, not only to a new country but also into a different social class. Esperanza's expectation that her 13th birthday will be celebrated with all the material pleasures and folk elements of her previous years is shattered when her father is murdered by bandits. His powerful stepbrothers then hold her mother as a social and economic hostage, wanting to force her remarriage to one of them, and go so far as to burn down the family home. Esperanza's mother then decides to join the cook and gardener and their son as they move to the United States and work in California's agricultural industry. They embark on a new way of life, away from the uncles, and Esperanza unwillingly enters a world where she is no longer a princess but a worker. Set against the multiethnic, labor-organizing era of the Depression, the story of Esperanza remaking herself is satisfyingly complete, including dire illness and a difficult romance. Except for the evil uncles, all of the characters are rounded, their motives genuine, with class issues honestly portrayed. Easy to booktalk, useful in classroom discussions, and accessible as pleasure reading, this well-written novel belongs in all collections.-Francisca Goldsmith, Berkeley Public Library, CA
Copyright 2000 Cahners Business Information.
Impressions:
This book was always recommended to my ELL students by our school's reading interventionist. I even own a copy in my class library, but never got the chance to read it. I thought the story was interesting, and even more so when I found out that it was actually written about the author's grandmother. Its nice to consider a different point of view.
Activities:
Students will write a paper about a time when they have overcome a difficult situation and how their life has benefited because of it.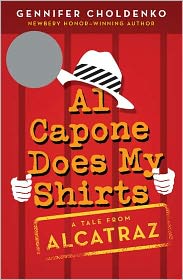 Title:
Al Capone Does My Shirts
Author:
Gennifer Choldenko
Bibliography:
Choldenko, Gennifer.
Al Capone Does My Shirts
. New York: Puffin, 2004. Print.
Summary:
Matthew "Moose" Flannigan comes to live on Alcatraz Island when his father gets a job as an electrician/guard. He loves to play baseball, but comes to find out that none of the other children on the Island play, and ends up spending most of his time taking care of his "ten year old" sister, Natalie. Natalie has a form of autism, which during this time period is undiagnosed, and most of the story tells of the struggle of her family to adapt to her sickness. Moose is one of the only children on the Island, other than the Warden's daughter, Piper, that leaves the Island to go to school in San Francisco. Piper gets Moose in trouble when she puts together a laundry scheme where the kids at school pay a nickel to have their clothes washed by the convicts on the Island, including Al Capone. Moose tries to stay out of trouble, but its not easy when you live on an island full of convicts.
Reviews:
School Library Journal (March 1, 2004)
Gr 6-8-In this appealing novel set in 1935, 12-year-old Moose Flanagan and his family move from Santa Monica to Alcatraz Island where his father gets a job as an electrician at the prison and his mother hopes to send his autistic older sister to a special school in San Francisco. When Natalie is rejected by the school, Moose is unable to play baseball because he must take care of her, and her unorthodox behavior sometimes lands him in hot water. He also comes to grief when he reluctantly goes along with a moneymaking scheme dreamed up by the warden's pretty but troublesome daughter. Family dilemmas are at the center of the story, but history and setting-including plenty of references to the prison's most infamous inmate, mob boss Al Capone-play an important part, too. The Flanagan family is believable in the way each member deals with Natalie and her difficulties, and Moose makes a sympathetic main character. The story, told with humor and skill, will fascinate readers with an interest in what it was like for the children of prison guards and other workers to actually grow up on Alcatraz Island.-Miranda Doyle, San Francisco Public Library Copyright 2004 Reed Business Information.
Impressions:
I enjoyed this book not only for the historical mentions of Al Capone, but also the inside look at autism and how it was perceived in the 1930s. I think students would enjoy reading this and seeing how different life was from this time period to our own.
Activities:
Students will write a paper about a real time from their past when they put together a scheme and were caught, or how they got away with it. What were the consequences or benefits of their actions?