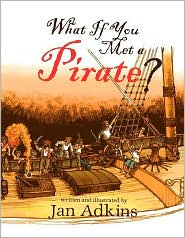 Title:
What if You Met a Pirate
Author:
Jan Adkins
Bibliography:
Adkins, Jan.
What If You Met a Pirate?: an Historical Voyage of Seafaring Speculation
. Brookfield, Ct.: Roaring Brook, 2004. Print.
Summary:
Forget the peg legs and walking the plank, this book gives the real story of real pirates in history. Everything from Queen Elizabeth's Seadogs to the real Pirate Blackbeard. This book tells about pirate ships, pirate treasure, and pirate attacks.
Reviews:
Booklist starred (October 15, 2004 (Vol. 101, No. 4))
Gr. 3-5. Can it be that walking the plank was a fictional punishment invented by illustrator Howard Pyle? In this appealing book, Adkins gives readers the lowdown on what life under the pirate flag was
really
like. After setting up the conventional portrait of swaggering, singing sailors in colorful duds, he replaces it with a more realistic picture of hard-working sailors who "might swashbuckle just a few hours each month"and bathed considerably less. Yet this realistic portrayal of pirates and their activities is even more intriguing than the romanticized version he debunks. Adkins strikes just the right note in the text, always informative and frequently entertaining as well. Bright with color washes, the excellent, energetic drawings show pirates engaged in a variety of activities, from pumping out the bilge to braiding each other's hair to using the open-air bathroom at the front of the ship. In a send-up of current book marketing, the back cover carries appreciative comments by the likes of Queen Elizabeth I and Leonardo da Vinci. Where pirate fever runs high this spirited presentation will find an enthusiastic audience. For more titles, see the Read-alikes, "Ship Ahoy!"[BKL S 1 04].
Impressions:
Overall, I enjoyed this book. The pictures were great and the information was told in a humorous way, with cute little anecdotes about all things pirate. If I hadn't completed my nonfiction project over this particular book, I never would have realized it; but the author has no qualifications to write about pirates, nor does he mention any consultants in writing the book. Therefore I have to question the validity of the information presented.
Activities:
Students will use this book along with several other informational books to create a Power Point over a topic of their own interest. The Power Point will then be "taught" to the class while they take Cornell Notes over the topic.
Title:
Starry Messenger
Author:
Peter Sis
Bibliography:
Sís, Peter, Lilian Rosenstreich, and Robert L. Egolf.
Starry Messenger: a Book Depicting the Life of a Famous Scientist, Mathematician, Astronomer, Philosopher, Physicist, Galileo Galilei
. New York: Farrar Straus Giroux, 1996. Print.
Summary:
This book tells the life story of Galileo Galilei, the famous Italian astronomer. Explores Galileo's idea that the earth was not the center of the universe and the trials he went through to prove it.
Reviews:
School Library Journal (October 1996)
Gr 1-6--In Follow the Dream (Knopf, 1991), Sis depicted both the humanity and heroism of Christopher Columbus. In Starry Messenger, Sis turns his considerable talents to another infamous Italian--Galileo Galilei. He layers his telling so that young children or groups may focus on the short version printed in large type at the bottom of each page. Older readers will glean more from the quotes pulled from the astronomer's treatise (the work that inspired this title) and other primary sources, such as Inquisition documents. This second layer is printed in script and presented in a variety of decorative patterns (suggesting ideograms) to distinguish it. The sophisticated details of Sis's watercolor, pen, and rubber-stamp illustrations provide yet another dimension as well as ambiance. A master of symbol, the artist creates scenes that focus on the subject--"a boy born with stars in his eyes"--and shows how he shines against the darker aspects of his time. The aging scientist stands alone in a circle of yellow light, suggesting his identification with the heliocentrism for which he was being condemned, surrounded by a sea of red-clad Cardinals. The text is no less powerful: "He was tried in the Pope's court, and everyone could see that the stars had left his eyes." The pathos, the painstaking copies of Galileo's famous sketches of the heavens, and the attention to current scholarship make this book a fascinating find. Leonard Everett Fisher's Galileo (S & S, 1992) is a useful companion for a more straightforward approach.--Wendy Lukehart, Dauphin County Library, Harrisburg, PA
Impressions:
I liked this book because it could be used with a large audience. Each page included a basic text, but also other information including quotes and facts about Galileo that could be further read by an older audience. The illustrations and information were fascinating.
Activities:
Students will use this book along with several other biographies to study the lives of an important person in history and then create a scrapbook over their lives.