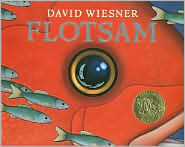 Book Title:
Flotsam
Author:
David Wiesner
Bibliography:
Wiesner, David. Flotsam. New York: Clarion, 2006. Print.
Summary:
While playing on a beach, a boy finds a strange camera that has washed ashore. Curious about the camera, he takes the film to be developed and finds strange pictures of the undersea world. He finds pictures of cities made out of seashells grown on the back of sea turtles and octopi sitting in Lazy Boys reading books while being lit from lampshade covered lighting fish. He also finds pictures of other children holding a picture of another child. After examining the pictures with a magnifying glass, as well as a microscope, he finds pictures inside of pictures from very long ago. The boy takes a picture of himself and returns the camera to the sea.
Reviews:
School Library Journal (April 1, 2011)
PreS-Gr 4-The properties and attendant framing shapes of the magnifying glass, camera, and microscope focus on photographs from a camera found on the beach. The watercolor sequence moves around the world and back in time, revealing a child holding a picture of the subsequent child (and an underwater fantasy) in this Caldecott winner. (c) Copyright 2011. Library Journals LLC, a wholly owned subsidiary of Media Source, Inc. No redistribution permitted.
Impressions:
I really enjoyed reading this book, even though there are technically no words to it. I loved how the pictures told the story. The illustrations were beautiful and creative and told the story easily with no questions about the plot.
Activities:
The thing that I loved most about this book (besides the beautiful illustrations) was the fact that there was absolutely no text in the entire book. I could see using this book as teaching plot, and having students find the exposition, rising action, climax, falling action, and resolution to the story. I believe that since there is no text for the book that each student will get something different out of it.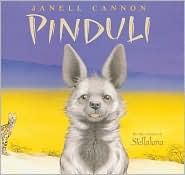 Book Title:
Pinduli
Author:
Janell Cannon
Bibliography:
Cannon, Janell. Pinduli. Orlando: Harcourt, 2004. Print.
Summary:
Pinduli is a hyena that lives on the African plains. While her mother tells her she is beautiful, Dog, Zebra, and Lion tell her otherwise. The point out that her ears are too big, her mane is straggly, and her stripes are disorderly. Wanting to disappear, Pinduli rolls in the dust till her fur is white. The other animals mistake her for the Great Spirit and want to know what they can do to appease the Spirit for making fun of the young hyena. Pinduli orders the animals to make peace. Through the other animals' confessions we learn that they only teased Pinduli about her looks because they to had been teased by other animals.
Reviews:
School Library Journal (October 1, 2004)
PreS-Gr 3-After sleeping through the hot East African afternoon, it is time for Mama Hyena and her child to go hunting. Pinduli promises to stay close by, but then trots off. She comes across a pack of wild dogs, a lion, and a zebra, and all tease her about her looks. She rolls in the dirt until her striped coat is a pallid gray and her ears are pinned back. The animals think that she is a "ghost" that has come for them. All of the creatures then confess that they teased the young hyena because another animal had made fun of them. The "ghost" understands and advises them to "find your tormentors and make peace-. And always leave a bit of every meal as an offering." By story's end, the animals have reconciled, and with all the food offerings left, Pinduli and her mother never have to scrounge around looking for meals. The animals' expressions and antics are hilarious and endearing; Cannon has pulled off quite a feat in creating a cuddly hyena protagonist. This touching book about personal growth and self-acceptance gently demonstrates how the actions of one can have far-reaching effects on many others. An appealing and worthwhile purchase.-Mary N. Oluonye, Shaker Heights Public Library, OH Copyright 2004 Reed Business Information.
Impressions:
I have always been a big fan of Cannon's books, I love her stories and her illustrations. Her stories always have a definite theme to them. Even though I teach middle school, I can see using this book as part of a lesson.
Activities:
I really enjoyed reading this book and the illustrations were beautiful (as are all of Janell Cannon's books). I liked that the book taught a good moral lesson and I could see using this story for teaching theme in the classroom. Not only does it teach children that you shouldn't tease, but also that everyone is different and people should be respected for how they are different.