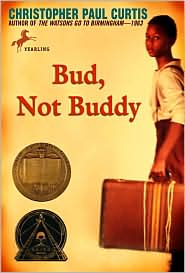 Book Title:
Bud, Not Buddy
Author:
Christopher Paul Curtis
Bibliography:
Curtis, Christopher Paul.
Bud, Not Buddy
. New York: Delacorte, 1999. Print.
Summary:
Bud lives during the Great Depression in Flint, Michigan. He runs away from a foster home and sets out to find the man he thinks is his father, a famous bandleader, H.E. Calloway.
Reviews:
School Library Journal (September 1999)
Gr 4-7-When 10-year-old Bud Caldwell runs away from his new foster home, he realizes he has nowhere to go but to search for the father he has never known: a legendary jazz musician advertised on some old posters his deceased mother had kept. A friendly stranger picks him up on the road in the middle of the night and deposits him in Grand Rapids, MI, with Herman E. Calloway and his jazz band, but the man Bud was convinced was his father turns out to be old, cold, and cantankerous. Luckily, the band members are more welcoming; they take him in, put him to work, and begin to teach him to play an instrument. In a Victorian ending, Bud uses the rocks he has treasured from his childhood to prove his surprising relationship with Mr. Calloway. The lively humor contrasts with the grim details of the Depression-era setting and the particular difficulties faced by African Americans at that time. Bud is a plucky, engaging protagonist. Other characters are exaggerations: the good ones (the librarian and Pullman car porter who help him on his journey and the band members who embrace him) are totally open and supportive, while the villainous foster family finds particularly imaginative ways to torture their charge. However, readers will be so caught up in the adventure that they won't mind. Curtis has given a fresh, new look to a traditional orphan-finds-a-home story that would be a crackerjack read-aloud.-Kathleen Isaacs, Edmund Burke School, Washington, DC
Copyright 1999 Cahners Business Information.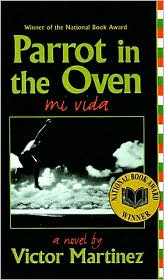 Book Title:
Parrot in the Oven: Mi Vida
Author:
Victor Martinez
Bibliography:
Martinez, Victor.
Parrot in the Oven: Mi Vida
. New York: HarperCollins, 1996. Print.
Summary:
Manny is a young Mexican-American boy who tells the story of his constant life struggles. Everything from joining a gang, an abusive father, working in the vegetable fields, an OCD mother, and a sister who has a miscarriage. Through it all, he survives and learns that it is the life experiences that make you the person you become.
Reviews:
Booklist (Vol. 93, No. 4 (October 15, 1996))
Gr. 7-10. For Mexican American teen Manuel, the main challenge in life, whether he always realizes it or not, is to find a reason to survive amid the negativity and emptiness that pervade his growing up in a city project. His father, unemployed and often drunk, is a source of tension for the whole family, especially Manuel's mother, whose determination to keep them all together is at times superhuman. The novel, written in a fluid, poetic language, resembles a series of vignettes more than one connected story; and this structure not only leaves the character development of Manuel and his family uneven but also generates a disjointedness that is occasionally confusing. There is also a general lack of basic information, such as the exact setting of the story and the ages of Manuel and his siblings, that may make the characters and their environment difficult for readers to visualize. However, the stories themselves, from Manuel's sister's miscarriage to his initiation into a gang to his grandmother's death, are not easily forgotten, and the book is worth purchasing for its authentic portrayal of a Hispanic teen's experiences.
Impressions:
While the Booklist review said that the appropriate age group for this book was grades 7-10, I would definitely not teach this book in middle school. The story line has very mature parts in it, especially the graphic scene of the miscarriage, I would not encourage this book for such a young audience. Personally, I found the story depressing, one bad thing right after another for Manuel.