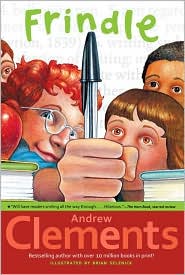 Title:
Frindle
Author:
Andrew Clements
Bibliography:
Clements, Andrew, and Brian Selznick.
Frindle
. New York, NY: Simon & Schuster for Young Readers, 1996. Print.
Summary:
Nick Allen is a fourth grade expert at getting out of homework. But with the new school year, comes a new teacher, Mrs. Granger. Mrs. Granger's reputation precedes her with her obsession for the dictionary. Nick takes this into consideration when he tries to test her by creating a new word, frindle. Soon, the entire fifth grade is asking to borrow a frindle from a classmate or getting their parents to add frindles to the grocery list. The news of the new word soon exceeds past the fifth grade to the local newspaper, then goes as far as Nick appearing on the Late Show with David Letterman. Ten years down the line, when Nick is in college, he receives a gift from Mrs. Granger of a brand new dictionary with the word frindle on page 541.
Reviews:
School Library Journal (September 1996)
Gr 4-6--Nicholas Allen, a sharp, creative, independent thinker starts fifth grade looking for a way to sabotage his Language Arts class. The teacher, Mrs. Granger, is a legend, and he believes her when she states that it is the people who decide what words go into the dictionary. Picking up a dropped pen triggers a brilliant idea. He coins a new word for pen-frindle. It's all for fun, but frindle catches on and Nick finds himself on the "Late Show" and "Good Morning America" explaining his new word. Readers will chuckle from beginning to end as they recognize themselves and their classrooms in the cast of characters. A remarkable teacher's belief in the power of words shines through the entire story, as does a young man's tenacity in proving his point. Outstanding and witty.--Pamela K. Bomboy, Chesterfield County Public Schools, VA
Impressions:
Even though this book is for elementary school, I really enjoyed reading it. I love how it started out with the "bad" boy pranking the teacher and in the end the teacher was in on it the entire time. As a teacher, I absolutely loved the ending of the book. I just wish that my students would get the same out of the story as I did.
Activities:
You could use this book as a class study involving the dictionary and how words are created. You could have each of the students create their own word, giving a detailed description of where the word came from and why it should be used. Then allow the students time to see if any of their words catch on throughout the school.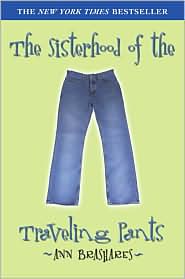 Title:
Sisterhood of the Traveling Pants
Author:
Ann Brashear
Bibliography:
Brashares, Ann.
The Sisterhood of the Traveling Pants
. New York: Delacorte, 2003. Print.
Summary:
The book tells the story of four teenage friends: Tibby, Bridget, Carmen, and Lena, and how they spend their summer vacation. The girls keep in touch writing letters and mailing a pair of jeans back and forth that surprisingly fit all four girls. The four friends all experience typical teenage conflicts: family issues, boyfriend problems, personal troubles, etc. By the end of the summer, each girl has resolved her problem (with the help of the pants) and matured a little through it all.
Reviews:
School Library Journal (August 1, 2001)
Gr 9 Up-Best friends Lena, Tibby, Bridget, and Carmen are preparing to spend their first summer apart since they were born. Before leaving to visit her father, Carmen buys a pair of second-hand jeans on a whim, and when the others discover that the pants fit all of them, they create the sisterhood of the traveling pants. Each teen gets them for a few weeks before sending them on, and thus they travel from Washington, DC, to Greece to Baja California to South Carolina, linking the friends even as they are apart. The summer and the pants come to represent more than any of them can ever anticipate in this four-part coming-of-age story. Before the season ends, each teen must deal with some unpleasant problem, reach a real low, then confront her personal flaws and pull herself back up again. Brashares deftly moves from narrative to narrative, weaving together themes from the mundane to the profoundly important, from death to raging hormones, from stepfamilies to dead-end minimum-wage jobs. The endings aren't pat, yet each story line comes to a satisfying conclusion. All four girls are completely realistic, and even the secondary and adult characters are fully drawn. The result is a complex book about a solid group of friends, with each one a strong and courageous individual in her own right. They form a true sisterhood of acceptance and support, resulting in a believable and inviting world.-Linda Bindner, Truman State University, Kirksville, MO Copyright 2001 Cahners Business Information.
Impressions:
I enjoyed reading this book, you really begin to bond with each of the characters and can easily identify with at least one of them. I felt that I was easily a Tibby. Even though the review from the School Library Journal ranked this as grades nine and up, I could easily see a middle school student reading it. I feel that the material is not too mature for someone in seventh or eighth grade to be able to relate to.
Activities:
This could be a good beginning of the school book where you can encourage students to write about their summer, either through letters, journals, or just a narrative story.