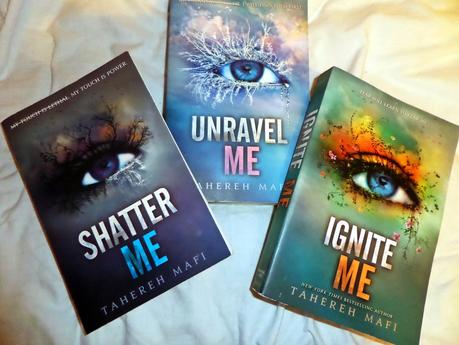 TITLE:
Shatter Me series
AUTHOR:
Tahereh Mafi
PAGES:
three book series
(Shatter Me, Unravel Me, Ignite Me)
GENRE:
Fantasy
OVERALL RATING
: 4/5
APPROPRIATE AGE: high school, there are a couple of very detailed intimate scenes in book three
SUMMARY
: Juliette, a girl with a deadly touch, survives in a world where people with powers are hunted. As a child, Juliette discovers that her touch actually sucks the life energy out of people. As a baby, her mother cannot even hold her. At the age of fourteen, she tries to help a toddler off the ground and accidentally kills him. She spends 264 days locked up in an asylum when the book starts. Then, the unthinkable happens, she meets a boy. Not just any boy, but a boy that is not affected by her touch.
WHAT I LIKED:
I read this entire series as an audiobook in about a week. I was thrilled when I found out the entire series was completed. I just hate reading a book and then having to wait months or even years for the next in a series. I liked watching the main character, Juliette evolve through the book series. At the beginning she believes she is a monster, and just wants to be invisible, completely giving up on any social interaction for the rest of her life. Throughout the books, she meets not one, but two guys interested in her. By the end of the third book, she is ready to take over the world... literally. It made me think of the TV series: Heroes.
WHAT I DIDN'T LIKE:
At the beginning of the book, Juliette believes she is insane. A good portion of the books are the thoughts in her head, which begins to get annoying. Especially the thoughts in her head versus what she chooses to say. I need some action! The third book did not disappoint with all the action. Juliette finally learns to control her powers and really kicks some butt. The thing I disliked the most was the end of the third book is left as a total cliffhanger. I have search the Internet far and wide to find a fourth book or a continuation, with no luck. I really don't see how the author could have left the series...
"You know," he whispers, his lips at my ear, "the whole world will be coming for us now."
I lean back. Look into his eyes.
"I can't wait to watch them try."
READALIKES:
X-Men, Darkest Minds by Alexandra Bracken
BOOK TRAILER:
Official Book Trailer by Harper Teen